SAP Business Intelligence (BI) & Business Objects (BO)
Business Intelligence is an enterprise-class, complete, open and integrated solution that deliver actionable insight. Here data is converted into information into right format which can be useful to support business decision making, it can store present the normalize and de-normalize data into layered Architecture view which can be reusable and actionable and the beauty is that access can be from any source to a centralize location current and historical view. The Business Intelligence solutions are always design in line with Company Mission Vision and Milestones to Measure and improve the Business decision making effectively.
Big data, mobility, and cloud computing are changing how organizations make decisions. In the face of these challenges, what if you could give your people the information they need at the very moment of decision-making – a full knowledge of the current and future opportunity and risk of their decision, plus the power to take real-time action?  Analytics from SAP enable you to turn Big Data into the best decisions by delivering dynamic, meaningful information instantly in an elegant visual experience personalized to your needs.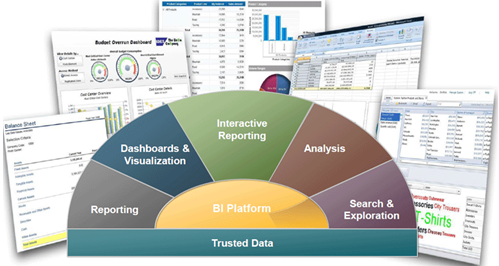 TechPoint BI/BO Capabilities
ETL- Extraction Transformation and Loading
Dataware Housing
Analysis – report and Dashboards
Mobile Solution
Broadcasting & Data cleaning
Data Discovery – Exploration
System Improvement Support
SAP HANA
SAP HANA combines database, data processing, and application platform capabilities in-memory. The platform provides libraries for predictive, planning, text processing, spatial, and business analyticsRuns on real-time data
HANA will run on real time data that is replicated from a database underlying an SAP application. Analytic models can be created on top of the operational data, enabling analysis of business in real time. Analytic models are not materialized but get calculated every time information is requested. Additional data from other sources such as SAP BW can be loaded into HANA as well, in order to augment insights derived from real-time operational data
Designed for business users
HANA is designed to enable business users to pull information when they need it. Business users can use a search and explore approach to search for relevant information, and explore interesting areas in the data when spotted. Excel based clients provide the environment business users are accustomed to, and dashboards provide the means to communicate the state of operations in real-time.
Extreme query performance
HANA is designed to support the search and explore paradigm with extreme query performance. Business users need to be able to search for information and explore it a very high speed, in order to support their typical patterns of knowledge finding. One of the most critical elements for business user acceptance is the ability to interact at human speed: systems need to respond immediately in order to enable the operator to follow his or her train of thought.
Secure data handling
HANA provides data security in multiple ways. First, the appliance is protected against unauthorized access to data. Secondly, using HANA instead of shadow IT solutions ensures that operational data stays protected. Finally, using certified data models provided by SAP for SAP Business Suite applications ensures correct use and interpretation of operational data.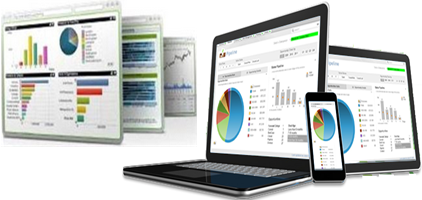 Qlik View

Qlik View is the most flexible Business Intelligence platform for turning data into knowledge. Thousands of organizations worldwide have enabled their users to easily consolidate, search, and visually analyse all their data for unprecedented business insight using Qlik View simplicity.
Qlik View is the most flexible Business Intelligence platform for turning data into knowledge. Thousands of organizations worldwide have enabled their users to easily consolidate, search, and visually analyse all their data for unprecedented business insight using Qlik View simplicity.
Qlik View brings a whole new level of analysis, insight, and value to existing data stores with user interfaces that are clean, simple, and straightforward.
QlikView promotes unrestricted analysis of application data, helping users make time-saving and accurate decisions