Do SAP Customer really need to invest huge while migrating to S/4 HANA?
SAP industry is changing, because consumers are changing, potential customers and employees belong to a fresh generation of people. Now, this era is agile, hectic, censors are everywhere, people spending their time in social networks. Consumers and customers are shopping from the digital world and you need to push or inform them of the new offerings or campaigns. Information should be real-time, no latency welcome any more even if it is 1 hour. That's where SAP S/4HANA comes in.
So in this era, you need a new platform, which will serve all the needs of this century. It should support the Internet of Things, Big data, prediction and should be in real-time. All requests should be covered really fast and mobile. In this era, your platform has to be cloud base as well.SAP is now offering a platform – S/4HANA, which is available at inTech Point.
Why you should consider moving or migrating to SAP S/4HANA?
There are many good reasons for migrating to S/4HANA, not least the long list of new functions and features and Fiori apps that give users a mobile-enabled experience. But identifying and documenting your pain points and challenges as well as highlighting the specific financial benefits that it will bring to different departments and users across the whole organization is a significant exercise and one that cannot be undertaken lightly.
Importance of S/4 HANA Migration
As the term suggests, S/4 HANA Migration is a process that leads business operations toward Succes, thereby leveraging the disrupting technologies for increasing productivity and efficiency.
For example, the rise of cab-hailing startup Uber is largely attributed to Migration. The company has successfully integrated a mobile app in its system to bring automation and convenience to the user's life.
S/4 HANA Migration aims to bring inclusive growth for the company. It helps companies to improve customer services and maintain compliance with the prevalent laws. As we live in the digital age, the ultimate goal of S/4 HANA Migration seems to be to transform our daily lives by bringing more comfort and convenience.
In a nutshell, these are the top 5 reasons why you should consider moving to S/4HANA:
Simplicity

Speed

Ease of Use

Modernization

Aligning Cloud and On-Premise Application Scenarios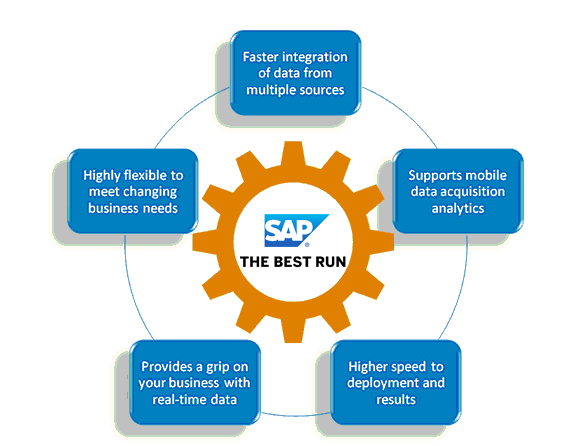 While migrating to S/4 HANA any SAP customer needs to take care of below aspect from financial implications:
1) License Conversion to S/4 HANA
2) Migration Cost – Technical & Functional
3) Hardware – On Cloud or Premise
TechPoint SAP Expertise in migrating from ECC to S/4 HANA
SAP HANA Assessment Services
Ø  SAP HANA readiness assessment – SAP Licensing assistance           
 Ø  Infrastructure provisioning and installation (on-site and cloud)
Ø  Architecture and Infrastructure assessment
Ø  SAP HANA Roadmap & New SAP Implementations 
SAP HANA Business Transformation Services
Ø  SAP BW on HANA transformation           
 Ø Business Suite on HANA transformation
Ø BI transformation
Ø  SAP S/4HANA transformation
SAP S/4HANA Upgrade and Migration Services
Ø  OS and DB (SAP HANA) Migration           
 Ø SAP HANA Live Deployment and Adoption
Ø ABAP Code Remediation
Ø SAP S/4HANA Finance Migration and Configuration
SAP HANA Application and Analytic Services
Ø  Industry and Line of Business – Rapid Deployment solutions         
 Ø Custom applications and reporting
Ø Operational reporting solutions
Financial implications to SAP Customers vary as every implementation is different from others. In this TechPoint SAP-certified consultants will help to minimize approach with readily available services.
The SAP S/4HANA brings a lot of positive changes – better user experience, reduced total cost of ownership, improved performance, etc. Also, S/4HANA is more secure and easier to maintain a platform that will become an important part of your plans for the digital transformation of your business.
Get in touch with TechPointteam to understand the positive changes that SAP S/4HANA will bring to your business & help to invest less while migrating with standard & experienced approach
SAP provider in India , SAP provider in Maharashtra , SAP provider in Pune , SAP provider in Mumbai, SAP provider in Nagpur , SAP provider in Nasik , SAP provider in Kolhapur , SAP provider in Gujarat , Tech point SAP provider